With all the talk of 3d printers for making mags and guns I thought that it would be a much more profitable use of time to figure out a way to fabricate simple magazines that someone could make in their home with basic tools that most people would have. 3d printers capable of making functional reliable magazines are still very expensive and the cheaper printers are not quite there yet. The basic goal of this thread is to come up with a design for a 30 round and 20 round AR-15 magazines as well as 30 round AK-47 magazines that can be easily made with a reasonable level of quality in a garage with simple tools and basic components that people can get from the hardware store. Ideally followers and springs should have detailed construction tips since these might not always be available online.
Basic ideas so far include simply pressing the mags out of aluminum and casting the follower out of resin and making the springs out of heat treated piano wire.
[img][url=https://servimg.com/image_preview.php?i=1&u=18133234]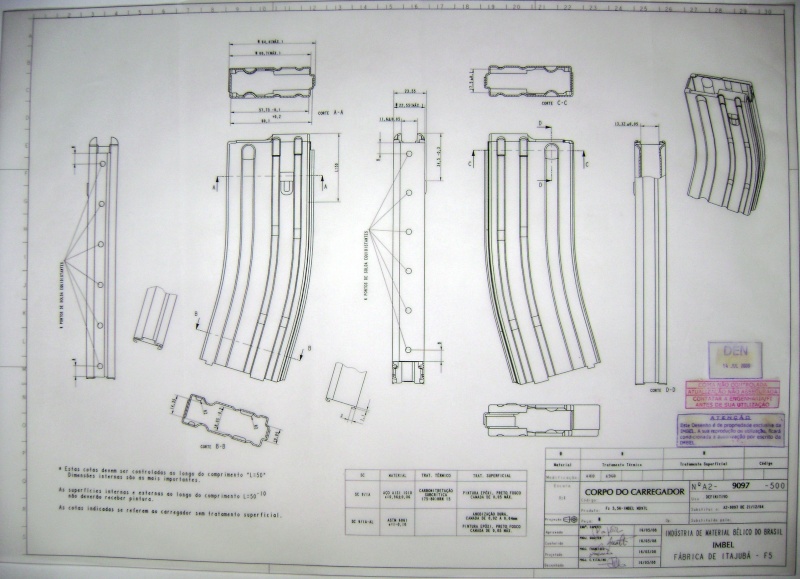 Metal Artist here. I have learned a lot of things from jewellery and sculpture fabrication that may prove applicable.

The springs are easy. As stated above: Piano/Music wire, plate steel jig in shape of mag inside (a bit smaller as springs open up when taken off a jig and spring thickness must be taken into account), drill holes for pins where a there is a coil on the spring. Use pins as a guide to bend. To use insert wire into hole drilled into bending jig, bend towards the pins, when bent take pins out of guide, snip wire from hole at top. Leave extra on the top part of the spring to bend so you can insert it in the follower.

I should point out I have no AR mags as I am a believer in the Kalashnikov. AK mags would be way easier to make. However I am trying to get my hands on some AR mags (stockpile) for the .223 AK I am going to build from a parts kit to take AR mags. I am trying to buy 8 AR mags at $15 each on a forum right now. Fuck this panic buying.

The floor plate can be as simple as a two pieces of wood with the lower piece being wider (as a stop) with two holes in the mag body and stop for pins or bolts to keep it in place.

The follower can be cast from resin or some plastic that is fairly easy to obtain. Worse case scenario one could cast them out of zinc (pennies and a stove top) or better yet use lost wax casting (jeweller set up) and make them of aluminium, copper, bronze. I have yet to handle an AR mag follower but I could make an AK follower with great ease. Silver solder (or braze) a fired (and cleaned) cartridge to the follower in place of the hump that enables stacking . Once can braze with brass wire, Borax laundry supplement from Walmart (a dollar a pound), a fifty dollar propane torch from Home Depot (dont get the cheap ones, it needs to swirl the flame not just spit out flame), and a propane canister.

Put an actual follow in a small box, with two pins sticking out from it, pour in RTV Silicone (caulking and other substances can be used as well). Let cure. Cut from sides with a razor to make a pivoting flap to remove follower, fill in part with pins (to keep it in middle of mold). Mix a resin that will not adhere to mold. Coat mold with petrolium jelly or other to keep from sticking. Pour in resin from a pour sprue. Let cure. Take out. Clean up flashing on edges of item.

The magazine should preferably be made of steel. That would enable simple spot welding, welding, or brazing. However aluminium is still viable.

Using a two sided die would be great. However they are hard to make (require extreme accuracy) and are expensive to have made professionally and would arouse suspicion. Hydro-pressing is commonly used in jewellery making by home jewellers as it only requires a one sided. Metal is put on top of a die, a thick polyeurathane sheet is placed on top, with a hard backing plate. Under a few tons of pressure the eurothane acts on the weaker parts where the die has no support (The depressions) and so only one sided dies are needed. I was considering pouring bronze into a magazine body cut in half. I would the use the steel magazine body as the actual die itself. Make a jig to beat over the edges. Trim edges. Align with other half and spot weld or braze. A jig of steel plate (even wood) would be placed in the feed lip area and the metal would be beat over it.

Cast plastics are very brittle. Something as thin as a mag would not last very long. You actually could cast the mag body out of aluminum, bronze or copper. It would not be as strong as sheet metal as cast metals have a different grain structure alignment. I would not recommend it but it is doable.




Posts

: 1


Join date

: 2013-02-21



As I haven't had access to any meaningful tools as of late the project has become somewhat stalled. However I had one good idea for a simple design that I haven't had a chance to try and fabricate yet. The idea would be for a straight 20 round mag where it would simply be folded aluminum with epoxy to join the the folds. The floor plate would just be a block of material held in place in the bottom of the mag with a bolt running through the side and the feed lips could just be bent into shape with some pliers around a piece of round metal. The dimples in the side of the mag that normally keep the follower in line could be done by using epoxy to put some wire on the insides of the mag. I will draw up and upload the basic plan later this evening if anyone else wants to try making one this way.
This has to be the single most informative thread on these entire forums.
Admin




Posts

: 139


Join date

: 2012-02-14



---
Permissions in this forum:
You
cannot
reply to topics in this forum